Target country competence – a successfull market entry starts here
Experienced FBA associates are ready to explore new markets for you or to expand existing activities in foreign countries in a systematic and strategic approach. All of them are adept sales professionals with a long-standing experience record in export management and business operations within the cultural backgrounds of both, Germany and the target country. These associates will find the right business partner or distributor to implement your plans in the foreign country. They will also develop an adequate marketing concept and will furnish you with substantiated market analysis and clearly defined action plans for your target country.
FBA-NETWORK. TARGET COUNTRIES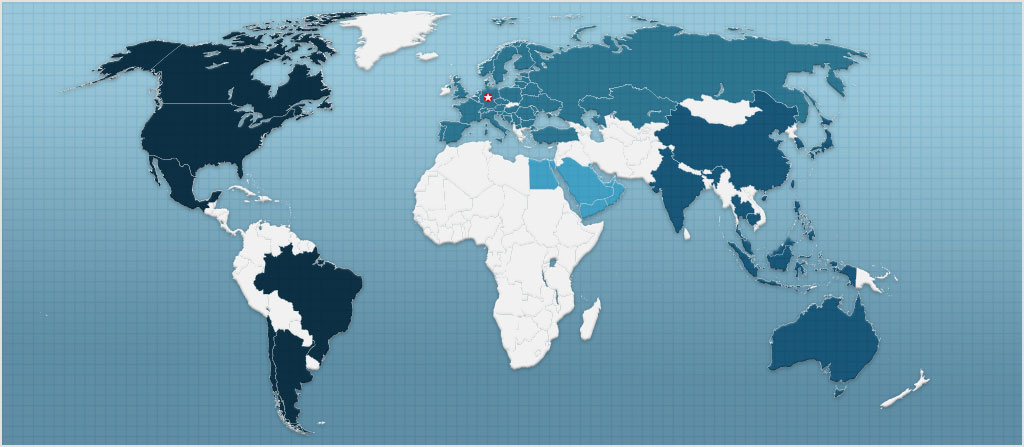 The coloured regions highlight areas where FBA associates are located to provide local support for your convenience: The Americas, Europe, Asia-Pacific and Middle East.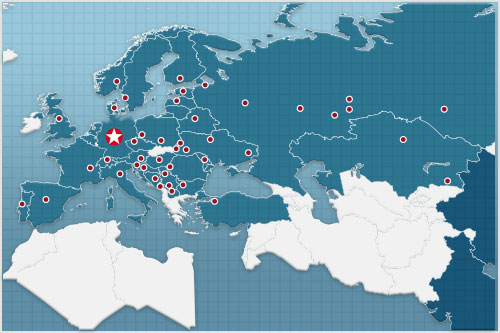 EUROPE
These are the locations where our associates will assist you on the local level in Europe
A significant share of German investments abroad still goes into Europe. Therefore, a major focus of our export consultancy services is directed towards Western Europe, as well as Central and Eastern Europe. That is why we have a particularly close-meshed net of associates, who will bring your search for business partners or distributors to fruition. The coverage is such that we can support your international sales operation even in countries like Bulgaria, Kosovo or Kazakhstan directly on the local level.The considerable differences in the development levels within Europe become evident in the following overview. This also shows the precise locations of our associates:
Despite lower growth rates, Western Europe comprises big markets with attractive purchasing power. The new EU member states grow at a faster rate than the older ones and continue to be of interest as links to the East. It is Europe where we feel at home. That is why it appears familiar. Nonetheless, many mistakes are made precisely here. Consequently, there is great disappointment when the goals are missed.We support your international sales efforts making sure your results are meeting your expectations in Europe.
ASIA-PACIFIC
These are the locations where our associates will assist you on the local level in Asia-Pacific
It is not easy for Europeans to fully understand the Asian mentality and business environment.
What are the expectations of customers in China or Japan?
How would you manage to reach them really?
And how can you gain their trust?
It is worthwhile to make the move into Asia. This is made clear by the overview shown. It also includes a listing of all locations in the Asia-Pacific region:
From this list it becomes evident: Not only China is big, there are more markets in Asia, which are also large and attractive. Moreover: Their development pace is above average. That is the reason why the number of medium-size companies with activities in China, for instance, is steadily growing. And all business sectors are present there: the manufacturers of capital investment goods, automotive engineering, electrotechnology or mechanical engineering. Are you going to join in? We turn your Asian sales endeavours into success.
AMERICA
These are the locations where our associates will assist you on the local level in the Americas
On the American continent we have concentrated our export consultancy services on the most attractive markets: USA, Canada, Mexico and Brazil. The following graphic chart highlights the most important key data. It also includes a list showing the locations where our associates are based:n.
Notably the North American countries appear pretty familiar to us. And many people feel great sympathy for the Latin-American countries. However, how would you make the first step into such a vast country like the U.S.A.? And how would you approach the individual Federal States with their considerable differences?We will be pleased to answer these questions and many others.
MIDDLE EAST
These are the locations where our associates will assist you on the local level in the Middle East
You are looking for distributors or business partners in the Middle East? That implies a thorough pre-assessment: The potentials in the various countries vary enormously, as the following overview shows. This also contains the precise locations of our associates:
Saudi Arabia is, no doubt, the market with the highest potential, because of its economical, geographical and demographical dimensions. The United Arab Emirates (UAE) come next, followed, at some distance, by Qatar. Opportunities are growing in this region. However, profound knowledge of the cultural environment and deep-rooted local contacts are required to achieve business success in the Middle East. All of these we have!The export consultancy services by FBA and their associates will pave the way for a sustainable and successful start of your international sales and distribution set-up in the Middle East.
REFERENCES. REGION EUROPE
REFERENCES. REGION ASIA-PAZIFIC
REFERENCES. REGION AMERICA
REFERENCES – REGION MIDDLE EAST
CONTACT – Your request or our call-back
CONTACT-INFO
Fachberatung für den Aussenhandel,
41515 Grevenbroich
FON: + 49 (2181) 756687-0
FAX: + 49 (2181) 756687-50
MAIL: info@exportberatung.de